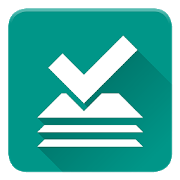 Apps like OpenTasks
An Open Source task app in Material Design. This app supports basic task management and provides user friendly user interface. To complete a task in the list view, just hold it for a moment and fling it from the left to the right. To edit a task fling it from the right to the left. NOTE: This tas… Read more

by dmfs GmbH
in Productivity

Organize your thoughts, discoveries, and ideas and simplify planning important moments in your life with your digital notepad. Microsoft OneNote lets you take notes on your phone and sync them across all your devices. With OneNote, you can plan a big event, seize a moment of inspiration to create s…

- Focus on what matters most and have access to your information when you need it. - Input typed notes or scan handwritten notes, add to-do's, photos, images, web pages, or audio... and it's all instantly searchable. - Create notebooks, organizers, planners and organize them any way you want and sha…

With Samsung Notes, you can create notes containing texts, images with footnotes, voice recordings, and music. Moreover, you can share your notes easily to SNS. Previously made any memos from S Note and Memo also can be imported into Samsung Notes. Samsung Notes provides various brush types and col…

? Editor's Choice by Google This Award-Winning To do list, Calendar, Planner & Reminders app Helps Over 25M People to Stay Organized and Get More Done. ? "IT'S A MUST HAVE PLANNER APP" (NYTimes, USA TODAY, WSJ & Lifehacker). Organize your life in seconds with Any.do - the award-winning free plann…

Trello is a visual tool for organizing your work and life. Join more than 35 million registered users to organize all your projects at work, at home, or anywhere in between. Whether you're planning a website design project, vacation, or company off-site, Trello is infinitely customizable and flexib…

ColorNote® is a simple and awesome notepad app. It gives you a quick and simple notepad editing experience when you write notes, memos, e-mails, messages, shopping lists and to-do lists. Taking notes with ColorNote® Notepad is easier than any other notepad or memo pad app. * Notice * - If you canno…

'Google PlayStore's Best App of 2017' - https://play.google.com/store/apps/topic?id=campaign_editorial_apps_productivity_bestof2017 Be more productive with this beautifully simple note-taking app. A Mac app, an iOS app and web clippers for Chrome, Firefox and Safari are also available. You can log …

Notion is a new editor that blends notes, tasks, wikis in one app. DRAG, DROP, EDIT Use drag & drop and Force Touch to arrange any content. Great for prioritizing lists and to-dos. RICH MEDIA Supports images, to-dos, bookmarks, code snippets and 20+ block types. SYNC WITH MAC, WINDOWS, AND BROWSE…

Orgzly is an outliner for taking notes and managing to-do lists. You can keep notebooks stored in plain-text and have them synchronized with a directory on your mobile device, SD card, Dropbox, or over WebDAV. Notebooks are saved in Org mode's file format. "Org mode is for keeping notes, maintaini…

☛ WorkFlowy is the world's best tool for taking notes and making lists. ☚ Simple to use, but incredibly powerful, WorkFlowy can help you manage all the information in your life. ♥ SLATE MAGAZINE ♥ writes ... ″This app is the easiest, best-designed, and most-flexible note-taker I've ever come ac…

Fast Scan: Free Document Scanner HD, PDF Scanning is a PDF creator from documents and photo clips. The document scan app is an original paper scanner to saved descriptive data into a formal PDF file. The handy scanner is pertained clear scanning and documents border detection. Every document is scan…

? Winner of Google's 2019 Material Design Award ? Winner of Google Play's Best of 2019 "Hidden Gems" ••• ruff is your pocket-sized best friend that aims to make writing on the go fun and sharing it fast & easy. It's a single sheet of text with your progress automatically saved and restored betwe…

Add a similar App
OpenTasks

An Open Source task app in Material Design.

This app supports basic task management and provides user friendly user interface.

To complete a task in the list view, just hold it for a moment and fling it from the left to the right.
To edit a task fling it from the right to the left.

NOTE: This task app doesn't support recurring tasks yet. You'll see recurring tasks, but you can not edit single instances. Any changes you make will apply to the entire series! Please keep that in mind.

It works in Android 2.x, but it's optimized for Android 4.x. Support for Android 2.x will be improved in future releases.

Open source
The app is open source. Please feel free to join the development at: https://github.com/dmfs/tasks

Report bugs
To report bugs, please use this bug tracker: https://github.com/dmfs/tasks/issues

Features still to come:
* more translations
* support for recurring tasks
* support for alarms
* support for categories
* sortings and filters
* many more

Please don't rate missing features, but only features the app already has. The app is still under development and lots of fancy stuff is still to come.

Permissions
At present the app doesn't use the "read contacts" permission. This permission has been added in advance for future releases. It's planned to support adding attendees to tasks and to provide auto-completion for the contacts.