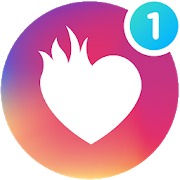 Apps like Waplog - Free Dating app - Meet & Live Video Chat
Use the best free dating app to find new dates, meet, chat and match with people nearby. Waplog is the fastest growing Dating App so it is very easy to find someone to chat, match, meet and date. 60 million + singles enjoy Waplog and find their perfect matches every day. Register now and find who … Read more

by Waplog Social Network
in Social

Snapchat is the most fun way to share the moment with friends and family ? Snapchat opens right to the camera, so you can send a Snap in seconds! Just take a photo or video, add a caption, and send it to your best friends and family. Express yourself with Filters, Lenses, Bitmojis, and all kinds o…

Bringing you closer to the people and things you love. — Instagram from Facebook Connect with friends, share what you're up to, or see what's new from others all over the world. Explore our community where you can feel free to be yourself and share everything from your daily moments to life's highl…

TikTok is THE destination for mobile videos. On TikTok, short-form videos are exciting, spontaneous, and genuine. Whether you're a sports fanatic, a pet enthusiast, or just looking for a laugh, there's something for everyone on TikTok. All you have to do is watch, engage with what you like, skip wha…

Keeping up with friends is faster and easier than ever. Share updates and photos, engage with friends and Pages, and stay connected to communities important to you. Features on the Facebook app include: * Connect with friends and family and meet new people on your social media network * Set statu…

An alternative Telegram client based on TDLib, with higher speed, slicker animations and experimental features.

Tumblr is a place to express yourself, discover yourself, and bond over the stuff you love. Whether it's fandoms or philosophy, fashion or felines, Tumblr is where your interests connect you with your people. EXPRESS YOURSELF — Post photos, GIFs, text, videos, live videos, audio, anything. — Make …

MeWe is the uplifting next-gen social network with awesome social features and No BS. No Ads, No Targeting, No Newsfeed manipulation. MeWe has exciting, easy-to-use features for authentic connecting with friends, family, and common interest groups, including: dedicated newsfeeds for close friends …

Tell us what kind of Snap profiles you are looking for and we will take care of the rest! For every profile you discover, you can either : - ask for their Snap - or move to the next profile • Keep control • Your Snap is private! It can't be seen by the other. When a user ask for your Snap, you ca…

Periscope lets you broadcast and explore the world through live video. See where news is breaking, visit a new place, or meet people and share interests - all in real-time. Use Periscope to: • Broadcast live video and interact with people through hearts and comments. • Discover popular live video s…

Streams come true. No plans this evening but feel like talking to people? Welcome to hayi! hayi is your app for pure entertainment, diverse shows and fun in the live chat. A place where something is always going on, every moment is unique and emotions are pure and genuine. Bursting with energy, …

Add a similar App
Waplog - Free Dating app - Meet & Live Video Chat

Use the best free dating app to find new dates, meet, chat and match with people nearby. Waplog is the fastest growing Dating App so it is very easy to find someone to chat, match, meet and date. 60 million + singles enjoy Waplog and find their perfect matches every day.
Register now and find who is nearby, match, chat, meet and date instantly for FREE. Discover and flirt with new people and have fun.
A FREE and a safe way to meet, chat, match, make new friends with new people for the best dating experience
Waplog is the most loved dating app among singles because you can watch stories, meet new people, match and chat for FREE, unlike other paid dating apps and dating sites.
Search by photos, and location for FREE!
Find a date and start chatting right away.
Enjoy "Live Chat" and see who is online! Real people with real dating profiles are ready to chat and date you. Whatever you are looking for, you will find it. May that be a relationship, or a friendship.
*Chat with people for free dating and chat messaging.
*Strong verification system for a more secure and reliable dating.
Add & watch stories and become part of the Waplog Community by meeting and chatting with real people.
*Waplog is FREE to download and to use, and that will never change for our main features. However, you can also subscribe to our Waplog VIP membership or Boost to activate more features.
? Video Chat:
Match with random awesome people and have instant live video chats. Discover new cultures and meet people from all over the world. Oh, and languages are not a barrier anymore. On Waplog Video chat, chats are translated in real-time so you can enjoy talking to new and interesting people. If you are not interested you can swipe and move on to the next person.

? Waplog Story:
Share all the moments of your day. Add as many stories as you would like and meet with genuine people. Dating apps have a tendency to stay conventional. We are taking dating to a whole new level so you can meet, match and chat with more people. You can even turn your videos into cash by creating locked videos.

? Boost:
Boost allows you to be the top profile in your area for 30 minutes and draws the attention to you. You get more matches and meet more people.
Don't wait, start dating today, flirt and meet new people. Join Waplog now, and discover new people right away.