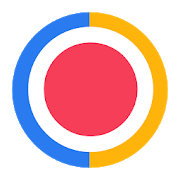 Apps like hayi - Live Stream Video Chat
Streams come true. No plans this evening but feel like talking to people? Welcome to hayi! hayi is your app for pure entertainment, diverse shows and fun in the live chat. A place where something is always going on, every moment is unique and emotions are pure and genuine. Bursting with energy, … Read more

by LOVOO GmbH
in Social

Periscope lets you broadcast and explore the world through live video. See where news is breaking, visit a new place, or meet people and share interests - all in real-time. Use Periscope to: • Broadcast live video and interact with people through hearts and comments. • Discover popular live video s…

TikTok is THE destination for mobile videos. On TikTok, short-form videos are exciting, spontaneous, and genuine. Whether you're a sports fanatic, a pet enthusiast, or just looking for a laugh, there's something for everyone on TikTok. All you have to do is watch, engage with what you like, skip wha…

Vidogram is a secure Telegram's client and has a lot of extra features. These additional features that you can see them in the list down below, can help you have an awesome messaging experience. 1- High quality and secure video and voice call 2- Live Stream 3- Separate chats in different tabs 4- Ta…

An alternative Telegram client based on TDLib, with higher speed, slicker animations and experimental features.

Meet new people and have instant chat with 20,000,000+ real people worldwide. Use instant messaging with strangers, meet real people, flirt and even find a date in your city or across the world! Enjoy free private chat, dating, fun flirting games and more. A popular Nigerian dating app with lots o…

Date-me gets you back in the dating business in just 5 simple steps: 1 – download Date-me free app 2 – create your profile 3 – add your dating preferences 4 – browse and get in touch with gorgeous users who are near you 5 – meet your potential soulmates on exciting dates! Unlike most dating apps, …

Tumblr is a place to express yourself, discover yourself, and bond over the stuff you love. Whether it's fandoms or philosophy, fashion or felines, Tumblr is where your interests connect you with your people. EXPRESS YOURSELF — Post photos, GIFs, text, videos, live videos, audio, anything. — Make …

Meet millions of new people from all over the world, wherever you are. Have a good chat, make new friends or even find the love of your life. Because life is all about the people you meet.

Do you believe you can meet new people and have a free chatting in 30 seconds? YES, you can do that in Sweet Chat! Only 30 seconds, start your new meet up! Join 10+ MILLION PEOPLE chatting, messaging, and making new friend online every day! When you are alone, when you want to chat, you can always…

MeWe is the uplifting next-gen social network with awesome social features and No BS. No Ads, No Targeting, No Newsfeed manipulation. MeWe has exciting, easy-to-use features for authentic connecting with friends, family, and common interest groups, including: dedicated newsfeeds for close friends …

There are many Koreans on MEEFF who are eager to make foreign friends just like you! With MEEFF, You can find Korean friends near you to enjoy - language exchange - touring Korea from end to end - touring your city together - talking about K-POP / K-Drama - chatting with coffee - watching a movie w…

Snapchat is the most fun way to share the moment with friends and family ? Snapchat opens right to the camera, so you can send a Snap in seconds! Just take a photo or video, add a caption, and send it to your best friends and family. Express yourself with Filters, Lenses, Bitmojis, and all kinds o…

Add a similar App
hayi - Live Stream Video Chat

Streams come true.
No plans this evening but feel like talking to people? Welcome to hayi!
hayi is your app for pure entertainment, diverse shows and fun in the live chat.

A place where something is always going on, every moment is unique and emotions are pure and genuine.
Bursting with energy, the focus is on the streamers, supporters, pure entertainment and the most relaxed way to meet people.

Here you become part of a community that sticks together – a diverse group of people that all have the same goal: to meet people, exchange ideas, goof around, entertain one another. The best part? No two days are the same. Each moment is special and unique. You'll never experience how you experience it here again. Better than TV, right? No, rather the future of TV!
You can experience all that with hayi
?Live entertainment with direct interaction (live chat, virtual gifts)
?Diverse shows, contests, formats and streamers
?Your own community or fan base

Entertainment, streams, live videos:

Gone are the times of boredom when you switched through the program. With hayi, you swipe through the streams, determine the program yourself and sit back and relax for your live entertainment. You can give streamers you like animated gifts or find your own community.
Our top streamers are always coming up with something new to inspire their audience. With regular shows, contests and brand-new formats, entertainment on hayi is, and remains, colorful, fun, diverse, and simply lively.

Imagine, you are cozy at home, you pick up your phone, press the record button and speak to thousands of people! Whether you want to release the entertainer in you or prefer to sit back and watch streams is up to you. hayi is for everyone.

Streamers and supports are a team on hayi – there can't be one without the other. As a streamer, the stage is yours; as a supporter, you decide what happens.

Stream team in the live chat:

Where else can you chat to others at the click of a button? Join a stream, say hello and before you know it you are right at the center of the action. The side stream offers even more interaction. Here you can chat with other streamers in the live video chat and get your community involved: An action-packed get-together of friends that you don't even need to get off the couch for.

Battles, surveys, and shows:

A number of features make sure that our live streams are entertaining.
Live out your ambition in the battles, go up against other streamers and be celebrated by your viewers. This is where the real action is, get the most gifts in a short space of team and emerge from the battle as the triumphant victor. Share your elation over your victory and your victory dance with your viewers. You did it together!
You can also start surveys and let your fans decide how you organize the show.