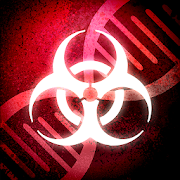 Apps like Plague Inc.
Can you infect the world? Plague Inc. is a unique mix of high strategy and terrifyingly realistic simulation. Your pathogen has just infected 'Patient Zero'. Now you must bring about the end of human history by evolving a deadly, global Plague whilst adapting against everything humanity can do to d… Read more

by Miniclip.com
in Simulation

•The World's #1 Pool game - now on Android!• Play with friends! Play with Legends. Play the hit Miniclip 8 Ball Pool game on your mobile and become the best! COMPETE 1-ON-1 OR IN 8 PLAYER TOURNAMENTS Refine your skills in the practice arena, take on the world in 1-vs-1 matches, or enter tournamen…

You've never played a football game like this before. Take on your friends in multiplayer free-kick face-offs, or make a name for yourself in the Career Mode! Challenge the world across different online game modes! Hit the targets in a fast-paced, time-limited battle for points in Shooting Race mod…

Can you stop the Insurgency? From the creator of Plague Inc. comes a unique and deeply engaging political/military strategic simulation. The war is 'over' - but we all know that doesn't mean anything. To stabilise the country, you need to balance military and civilian priorities to win the hearts …

Add a similar App
Plague Inc.

Can you infect the world? Plague Inc. is a unique mix of high strategy and terrifyingly realistic simulation.

Your pathogen has just infected 'Patient Zero'. Now you must bring about the end of human history by evolving a deadly, global Plague whilst adapting against everything humanity can do to defend itself.

Brilliantly executed with innovative gameplay and built from the ground up for touchscreen, Plague Inc. from developer Ndemic Creations evolves the strategy genre and pushes mobile gaming (and you) to new levels. It's You vs. the world - only the strongest can survive!

◈◈◈ #1 top game globally with 200 million+ games played ◈◈◈

Plague Inc. is a global hit with over half a million 5 star ratings and features in newspapers such as The Economist, New York Post, Boston Herald, The Guardian and London Metro!

The developer of Plague Inc. was invited to speak at the CDC in Atlanta about the disease models inside the game!

▶ "The game creates a compelling world that engages the public on serious public health topics" – The Centers for Disease Control and Prevention
▶ "Best Tablet Game of 2012" - New York Daily News
▶ "Plague Inc. will snag your attention in all the right ways and keep it there" - Touch Arcade
▶ "No denying Plague Inc.'s high-level of quality" - Modojo
▶ "Plague Inc. should not be as much fun as it is" – London Metro
▶ "Will leave you hoping to destroy the world, all in the name of a bit of fun" – Pocket Lint
▶ "Plague Inc.'s gameplay is infectious" - Slide to Play
▶ Winner – "Overall Game of the Year" – Pocket Gamer
▶ "Killing billions has never been so fun" – IGN

◈◈◈

Features:
● Stunning HD graphics with a highly polished interface (Contagion guaranteed)
● Highly detailed, hyper-realistic world with advanced AI (Outbreak management)
● Comprehensive in-game help and tutorial system (I am Legendarily helpful)
● 12 different disease types with radically different strategies to master (12 Monkeys?)
● Full Save/Load functionality (28 Saves Later!)
● 50+ countries to infect, hundreds of traits to evolve and thousands of world events to adapt to (Pandemic evolved)
● Full game support for scoreboards and achievements
● Expansion updates add the mind controlling Neurax Worm, the zombie producing Necroa Virus, Speed Runs and real life Scenarios!

Localised in English, German, Spanish, Brazilian Portuguese, Italian, French, Japanese, Korean and Russian. (more coming soon)

P.S. Give yourself a pat on the back if you got all the themed literature references!

Special sale price to celebrate being the 15th most popular touchscreen game of 2012!

◈◈◈

Like Plague Inc. on Facebook:
http://www.facebook.com/PlagueInc

Follow me on Twitter:
www.twitter.com/NdemicCreations