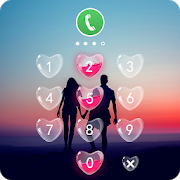 Apps like AppLock
AppLocker - smart AppLock, Privacy guard & Security Lock! With App Lock to lock apps to keep security and safe. Download the best Security Lock - App Locker ( AppLock ) to be your phone App Locker and privacy guard! Your privacy will be well protected with password lock & pattern lock& fingerprint… Read more

by Cleaner & Booster & Security & Weather
in Tools

100% FREE!!! What the weather forecast today? What the weather tomorrow? What the New York weather? or local weather? Even or the national weather and the world weather? What 10 day forecast?... The accurate weather app can provide you a detailed weather forecast wherever you are! Use Vegoo wea…

Internet Speed test, WiFi Speed Test is your internet speed meter to check internet speed! WiFi Speed Test - the most powerful Internet Speed Meter, with accurate report, tests WiFi speed in seconds. The internet speed test supports speed test of WiFi hotspots and GPRS ( 2G, 3G, 4G, LTE ). WiFi S…

The first application that compatible with WhatsApp completely. If you find WhatsApp crashing in other cloned application, please choose DualSpace. We can guarantee the running stability of WhatsApp. Did you have to frequently switch different social account of same app on your phone? Have you eve…

▣ Smart Switch gives you the freedom to move your contacts, music, photos, calendar, text messages, device settings and more to your new Galaxy device. Plus, Smart Switch™ helps you find your favorite apps or suggest similar ones on Google Play™. ▣ Who can transfer? • Android™ owners - Wireless …

The Galaxy Wearable application connects your wearable devices to your mobile device. It also manages and monitors the wearable device features and applications you've installed through Galaxy Apps. Use the Galaxy Wearable application to set up and manage the following features: - Mobile device con…

This application is a component for Galaxy Wearable Application. Galaxy Wearable Application has to be installed in advance. ※ Please allow the permission of Galaxy Wearable Application from Android Settings to use it completely in Android 6.0. Settings > Apps > Watch Active Plugin > Permissions …

Let's talk through iTranslator. We'll take turns talking and listening to translations. Whenever you need translations during your travels, business trips, or while studying, just come and enjoy iTranslator. Over 90 languages supported for translation. ⍟ Main features: ⎼ Text translation ༚ Compar…

Language translator, Free Translation Voice & Text is completely free and useful for all android users. Free language translator application translated your words very fast. Speech and translates more than 80 languages by using free voice translator app. It's a free foreign language translator appli…

PDF Reader and PDF Editor, Image to PDF Converter, PDF Manager is the leading office applications to help you read the document downloaded from the Internet, supports ultra fast read pdf files, compress pdf and pdf viewer for android free download. PDF Reader and PDF Editor, Image to PDF Converter,…

PDF Reader is a pdf reading tool. If you're looking for a good PDF reader application that can simply deliver an amazing reading experience with fast performance and basic features, it is the right PDF reader for you. It can help you to easily manage and open all the pdf files on your mobile. It is …

Enjoy beautiful design of CountDown app. Count days, hours, minutes and even seconds until your Birthday, New Year, Xmas,... Customize this app for yourself!

dr.fone – the world's 1st Data Recovery Software for Smartphones and Tablets! ★ Highest recovery rate in the industry. ★ Recover photos, videos, contacts, messages, notes, call logs, and more. ♥ New feature: Easily transfer any files between devices and PC wirelessly ★ Free you from cables and cl…

Add a similar App
AppLock

AppLocker - smart AppLock, Privacy guard & Security Lock! With App Lock to lock apps to keep security and safe.

Download the best Security Lock - App Locker ( AppLock ) to be your phone App Locker and privacy guard! Your privacy will be well protected with password lock & pattern lock& fingerprint lock! A great anti-intrusion tool for you.

With Security Lock - AppLocker ( AppLock ) , you can lock apps such as Facebook, WhatsApp, Snapchat, Messenger and any app you choose, including gallery, phone settings and app markets!

Safe notes lock note to keep secret your private notes, and auto-saved, you don't have to do anything. Keep your notes privacy.

Now lock apps with Security Lock - AppLocker ( App Lock ) , the personal security app to secure your privacy!

-----------Features-----------

● Protect your privacy
Hide your personal pictures and videos by locking gallery and photo apps with AppLocker ( AppLock ) .
Protect your message by locking your social apps with AppLocker ( AppLock ). Keep your social data security from prying eyes. Give your phone 360° security protection.

● Lock app market
Keep your children from purchasing games by locking app market in your phone with the app locker. Security Lock is your AppLocker ( App Lock )!

● Catch intruders
Protect your privacy in real time. No one can snoop on your apps without your permission.
Take a photo of who tried to unlock your apps immediately. And you can see the detail information in the app lock app, including photo, date and time. This is a great anti-intrusion tool for you. To find out the intruder to keep your phone safety.

● Gallery Lock
Transfer pictures and videos from Gallery to a photo/video vault. Hide picture & video of photo album to keep your secret photos & videos safe!

● Lock apps
Security Lock - AppLocker ( App Lock ) can lock apps. Prevent unauthorized access and guard privacy. Ensure security!

●Privacy Notes
It gives you a safe, quick and simple notepad editing experience when you write notes, memo, email, message, and mark note with different background colors. Most importantly, it is secret and has password protected.

● Lock Phone Settings
Prevent others from changing your phone setting ( WiFi, 3G data, Bluetooth, Sync, USB and so on ) by locking settings. To be your smart App Locker ( AppLock ) !

● Unlock more secure
Hide pattern draw path and be invisible. Give you overall privacy protection.

● Install monitor
Notify to make a lock when a new app is installed! And you can close the notification at any time.

● Pattern Lock & Password Lock & Fingerprint Lock
Pattern lock & password lock have many kinds of themes. Pattern lock is more faster to unlock. And the mode of pattern lock, you can hide draw path. Much safer for you to lock apps. Fingerprint lock just presses your fingers on screen, AppLocker will scan your fingerprint, then the screen will be unlocked in a second, more convenient to use.
Switch any unlock mode! Well-designed theme is waiting for you!

● Easy to Use
Just One Click to set locked apps and unlocked apps.

● Lightweight but Powerful
Security Lock - AppLocker ( AppLock ) uses less than 2MB of space, but can protect all your privacy.

Security Lock - AppLocker ( AppLock ), a smart privacy guard, gives your phone 360° security protection.

How to set my passcode at the first time?

Open App Lock-Enter passcode-Re_enter your passcode .
Choose apps that you want to lock-Next .
Setting Apps with usage access-APP Lock-Permit usage access .
Finish .