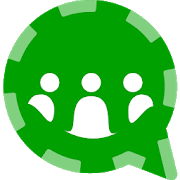 Apps like Quicksy
Quicksy is a spin off of the popular XMPP client Conversations with automatic contact discovery. You sign up with your phone number and Quicksy will automatically—based on the phone numbers in your address book—suggest possible contacts to you.¹ Quicksy can be downloaded for free from Google Play S… Read more

by Daniel Gultsch
in Communication

Be together whenever with a simple way to text, video chat and rally the group. * SEND A MESSAGE -Skip exchanging phone numbers, just send a message. It's seamless across devices. * CUT DOWN GLARE WITH DARK MODE. Dark mode is a sleek new look that goes easy on the eyes by switching the background f…

WhatsApp from Facebook WhatsApp Messenger is a FREE messaging app available for Android and other smartphones. WhatsApp uses your phone's Internet connection (4G/3G/2G/EDGE or Wi-Fi, as available) to let you message and call friends and family. Switch from SMS to WhatsApp to send and receive messag…

WhatsApp Business from Facebook WhatsApp Business enables you to have a business presence on WhatsApp, communicate more efficiently with your customers, and help you grow your business. If you have separate business and personal phone numbers, you can have both WhatsApp Business and WhatsApp Mess…

Pure instant messaging — simple, fast, secure, and synced across all your devices. Over 200 million active users in four years. FAST: Telegram is the fastest messaging app on the market, connecting people via a unique, distributed network of data centers around the globe. SYNCED: You can access yo…

Plus Messenger is an unofficial messaging app that uses Telegram's API. # One of the best rated messaging apps on Play Store # # More than 20 million downloads # # Translated into more than 20 languages # # Many support groups in different languages # Plus Messenger adds some extra features to off…

Vidogram is a secure Telegram's client and has a lot of extra features. These additional features that you can see them in the list down below, can help you have an awesome messaging experience. 1- High quality and secure video and voice call 2- Live Stream 3- Separate chats in different tabs 4- Ta…

Millions of people use Signal every day for free and instantaneous communication anywhere in the world. Send and receive high-fidelity messages, participate in HD voice/video calls, and explore a growing set of new features that help you stay connected. Signal's advanced privacy-preserving technolog…

Threema is the world's favorite secure messenger and keeps your data out of the hands of hackers, corporations and governments. Threema can be used completely anonymously, allows to make end-to-end encrypted voice calls, and offers every feature one would expect from a state-of-the-art instant messe…

Threema Work is the highly secure and easy-to-use messaging solution for companies and organizations. It offers the same high level of privacy protection, security, and usability that millions of private users value about Threema. Threema Work is fully compliant with the EU General Data Protection R…

Open source Jabber (XMPP) client with multi-account support, clean interface. Free (as in freedom!) and ad-free, Xabber is the best and most popular Jabber client for Android. It is built to provide users with a simple, fast and secure messaging based on interoperable open standards. Xabber is also …

Add a similar App
Quicksy

Quicksy is a spin off of the popular XMPP client Conversations with automatic contact discovery.

You sign up with your phone number and Quicksy will automatically—based on the phone numbers in your address book—suggest possible contacts to you.¹ Quicksy can be downloaded for free from Google Play Store. The source code is licensed under the GPLv3 and available on Github. Under the hood Quicksy is a full-fledged XMPP client that lets you communicate with any user on any publicly federating server. Likewise users on Quicksy can be contacted from the outside simply by adding +phonenumber@quicksy.im to your contact list.

Aside from the contact sync the user interface is deliberately as close to Conversations as possible. This allows users to eventually migrate from Quicksy to Conversations without having to relearn how the app works.