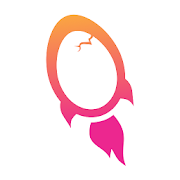 Apps like Launchora - Write, Read Stories and Poems
A writing and reading app where you can publish stories and poems. Launchora is a writing community for people who love to share and write poems, life stories, love stories, mystery, romance, screenwriting, fan fictions, confessions, letters, daily journals and more. Best app for writing and readi… Read more

by Launchora, Inc.
in Social

Snapchat is the most fun way to share the moment with friends and family ? Snapchat opens right to the camera, so you can send a Snap in seconds! Just take a photo or video, add a caption, and send it to your best friends and family. Express yourself with Filters, Lenses, Bitmojis, and all kinds o…

Bringing you closer to the people and things you love. — Instagram from Facebook Connect with friends, share what you're up to, or see what's new from others all over the world. Explore our community where you can feel free to be yourself and share everything from your daily moments to life's highl…

TikTok is THE destination for mobile videos. On TikTok, short-form videos are exciting, spontaneous, and genuine. Whether you're a sports fanatic, a pet enthusiast, or just looking for a laugh, there's something for everyone on TikTok. All you have to do is watch, engage with what you like, skip wha…

Keeping up with friends is faster and easier than ever. Share updates and photos, engage with friends and Pages, and stay connected to communities important to you. Features on the Facebook app include: * Connect with friends and family and meet new people on your social media network * Set statu…

An alternative Telegram client based on TDLib, with higher speed, slicker animations and experimental features.

Tumblr is a place to express yourself, discover yourself, and bond over the stuff you love. Whether it's fandoms or philosophy, fashion or felines, Tumblr is where your interests connect you with your people. EXPRESS YOURSELF — Post photos, GIFs, text, videos, live videos, audio, anything. — Make …

MeWe is the uplifting next-gen social network with awesome social features and No BS. No Ads, No Targeting, No Newsfeed manipulation. MeWe has exciting, easy-to-use features for authentic connecting with friends, family, and common interest groups, including: dedicated newsfeeds for close friends …

Tell us what kind of Snap profiles you are looking for and we will take care of the rest! For every profile you discover, you can either : - ask for their Snap - or move to the next profile • Keep control • Your Snap is private! It can't be seen by the other. When a user ask for your Snap, you ca…

Periscope lets you broadcast and explore the world through live video. See where news is breaking, visit a new place, or meet people and share interests - all in real-time. Use Periscope to: • Broadcast live video and interact with people through hearts and comments. • Discover popular live video s…

Streams come true. No plans this evening but feel like talking to people? Welcome to hayi! hayi is your app for pure entertainment, diverse shows and fun in the live chat. A place where something is always going on, every moment is unique and emotions are pure and genuine. Bursting with energy, …

Add a similar App
Launchora - Write, Read Stories and Poems

A writing and reading app where you can publish stories and poems. Launchora is a writing community for people who love to share and write poems, life stories, love stories, mystery, romance, screenwriting, fan fictions, confessions, letters, daily journals and more.

Best app for writing and reading
Write about your life and experiences - Launchora is the best community for creative writers who love to write and launch poems, stories, thoughts, ideas, essays, quotes, lyrics, books, and novels with people from across the world. Discover incredible stories daily written by people and access free reading on-the-go.

Follow writers and connect instantly
Start interesting conversations about life, books, movies, and creativity with writers and poets from around the world. Follow your favorite Launchora writers and tell them how their story made you feel, ask them questions, and connect over this shared experience. Give out opinions and recommendations on your favorite stories, and follow the writers you like to get notified when they publish their next story or poem.

Learn and become a better writer
Discover and find helpful writing tips and guides to learn creative writing - Find the help that you need to refine and recognize your creative potential. Bring in those unfinished, not-quite-ready drafts, need-some-feedback ideas, been-in-draft-limbo stories - and let the community help you with constructive feedback and suggestions.

Access creative storytelling tools
Take the next step in your writing journey by experimenting with your creative ideas and access the feature of recording and listening to audio stories and audio books.

Get inspired and unleash your creativity
Find writing prompts and participate in daily creative writing challenges to become a better writer or poet. Listen to our weekly creative podcast where we feature writers, artists, and storytellers who share and talk about their inspiring life journey and experiences.

Find and build your audience
Your unique voice and creative writing talent now have a home. Start your journey on Launchora, write in your own language, find your audience, watch it grow, and become a part of a global community of writers and poets.

If you are a writer or poet, this is the writing platform you have been waiting for. Our global writing community awaits your stories and poems.