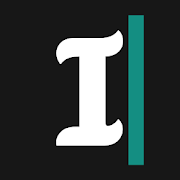 Apps like Inkitt Writing: Tell The Story
Want to tell a story? Want to become an author? With the new Authors' App we are bringing all the core functionality of the Inkitt web dashboard to your phone. Our optimized UI allows you to easily and quickly organize, edit, start, or continue writing novels no matter where you are when inspiration… Read more

by Free Novels Inc
in Books & reference

Feel the heartbeat of the protagonist: With Visual & Sound Effects, Vibration and Chat Stories, feel like you're part of the story! Discover Werewolf, Vampire, Billionaire and Bad Boy Addictive Love & Romance Stories that will get you hooked! Snoop on your favorite characters by reading their text …

Find thousands of new fiction books on the Inkitt App and read them for free. Fantasy books, scifi and thriller novels, horror stories, mystery, romance and more! Discover hand-picked novels from all genres and join us on our mission to support aspiring authors taking their first steps towards publ…

READ ANYTIME, ANYWHERE On the bus, on your break, in your bed—never be without a book. Built for book lovers, the Kindle app puts millions of books, magazines, newspapers, comics, and manga at your fingertips. FIND YOUR NEXT GREAT READ - Find your next great read with Kindle. Choose from over six m…

Experience the world's largest selection of audiobooks and audio entertainment. Your first audiobook is free! Audible, an Amazon company, is home to best-selling audiobooks across all genres including mysteries, thrillers, motivation, memoirs, ebooks, and more. Every month, members can select two …

Enjoy unlimited listening and reading of audiobooks and e-books in English and other languages. Find your favorite new stories through personal recommendations – discover everything from current bestsellers to acclaimed thrillers, unforgettable novels and gripping biographies. UPGRADE YOUR READIN…

LibriVox Audio Books offers unlimited access to over 24,000 free audio books. Each LibriVox audio book can be streamed over the internet or downloaded for later use without any charge. The LibriVox Audio Books app includes listings for new recordings, featuring classic best sellers and out of print …

GuteBooks offers over 700,000 free classic e-books from authors ranging from Charles Dickens to H. G. Wells. Covering every genre of literature, GuteBooks offers free works of literature, science, drama, and history entirely free. GuteBooks includes books from various sources, including Project Gut…

This is a free companion app for Plague Inc: The Board Game (a physical tabletop game). This app is not a game - only get it if you already have the Board Game! This app is designed to help people quickly set up and play the board game as well as enhancing the overall experience. Digital Rule Boo…

Inkspired (getinkspired.com) is a platform for readers and writers to discover, write and publish creative stories and book series. Our Inkspired Reader App for Android focuses on the reading experience of this kind of stories, specially designed for avid readers who are on-the-go. You will get a c…

With Sweek, you can read, write and share stories. All over the world. For free. We provide writers with the opportunity to publish their stories and books, reach new fans, receive valuable feedback and get noticed. Our readers can discover free stories and books from all around the world. Romance…

Add a similar App
Inkitt Writing: Tell The Story

Want to tell a story? Want to become an author? With the new Authors' App we are bringing all the core functionality of the Inkitt web dashboard to your phone. Our optimized UI allows you to easily and quickly organize, edit, start, or continue writing novels no matter where you are when inspiration hits!

All changes made in the Authors' App sync immediately to your web portal and vice versa.

We also have a ton of cool features slated for release in the coming months, which include:
+ Access to story analytics
+ Access to online writing classes and video series
+ Ability to send updates to followers

We created this app to make life easier for you, our wonderful authors, so if you have any requests for additional features, please submit them to support@inkitt.com. Inkitt is here to help you all succeed!

About Inkitt:
Inkitt is the perfect free app for reading books on your Android and tablet, especially for avid readers who love discovering upcoming novels from new and talented authors on the go. All stories published on the Inkitt app are our readers' top picks. Books are our passion and we want to share it with you. Join us on our mission to support rising talent!
www.inkitt.com

Interested in knowing more about upcoming titles, learning writing tips, and reading author interviews? Visit our blog at https://www.inkitt.com/writersblog.