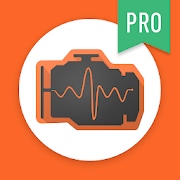 Apps like inCarDoc Pro | ELM327 OBD2 Scanner Bluetooth/WiFi
? Your connected car ? inCarDoc Pro - best doctor for your car: Check Engine codes reader, diagnostics, scanner, monitor and logbook tool: reads real-time and stored diagnostics parameters from ECU of OBD-II compliant cars. Before purchasing please check the car and OBD2 scanner compatibility wit… Read more

by inCarDoc
in Auto & vehicles

? Your connected car ? inCarDoc - best doctor for your car: Check Engine codes reading, diagnostic, car scanning, monitoring and logbook tool: reads real-time and stored diagnostics parameters from ECU of OBD-II compliant cars. Requires ELM327 or compatible OBD2 car scanner. Supported: OBD-II (Bl…

Android Auto is your smart driving companion that helps you stay focused, connected, and entertained with the Google Assistant. With a simplified interface, large buttons, and powerful voice actions, Android Auto is designed to make it easier to use apps that you love from your phone while you're on…

Car Assist app provides diagnosis of car's health & book service appointments Car Assist is a company based out of Pune, which enables car owners to get a diagnosis of their car's health and book service appointments upon request. With in house industry expert mechanics providing the diagnosis, c…

Connect to Ford Focus 2, C-Max, using ELM327 or ELS27 and you can work with the following modules that are connected to the CAN-bus: Engine block: Information on the module, reading, error reset, module reboot, reset the long-term fuel adjustment (KAM)* for: ESU-411/418(1.8 125/2.0 145) SIM28/29(1.4…

Obd Mary is a car diagnostic scanner, gauge dashboard and trip computer with a number of cool features. Attention!!! 1. You need ELM327 Bluetooth or Wi-Fi adapter to connect to a vehicle using this application. 2. Your vehicle can contain some ECUs (electronic control modules), so don't forget to …

Uber is a ridesharing app for fast, reliable rides in minutes—day or night. There's no need to park or wait for a taxi or bus. With Uber, you just tap to request a ride, and it's easy to pay with credit or cash in select cities. Whether you're going to the airport or across town, there's an Uber fo…

Add a similar App
inCarDoc Pro | ELM327 OBD2 Scanner Bluetooth/WiFi

? Your connected car ?

inCarDoc Pro - best doctor for your car: Check Engine codes reader, diagnostics, scanner, monitor and logbook tool: reads real-time and stored diagnostics parameters from ECU of OBD-II compliant cars.

Before purchasing please check the car and OBD2 scanner compatibility with the free version of inCarDocr https://goo.gl/imxGhN

Requires ELM327 or compatible OBD scanner. Supported: OBD-II (Bluetooth, WiFi, Kiwi 3 (BLE), V-Gate iCar 3 (BLE), Veepeak (BLE), Carista, Vinli); GPS-only and Demo modes. Read more at inCarDoc.com Limited functionality available w/o ELM327 possible only in GPS mode: Speed, Altitude

? Pro version features:

• real time parameters recording
• read & display multiple parameters
• recording parameters in background mode
• view recorded parameters traces
• GPS traces support
• upload to server http://inCarDoc.com
• extended widgets: fuel economy, acceleration
• overlay to present economy data over any application screen

? Car diagnostics

Works as fault codes OBD2 scanner, reads Check Engine (MIL) state, details, related freeze frame data, finds descriptions and clears stored diagnostic trouble codes (DTC). Allows to store and share diagnostics data when looking for a professional service/repair assistance. Please note that app supports only parameters and ECU's specified with OBD-II standard, that is Engine and Emission systems.

⏲ Real-time parameters

Reads real-time engine and vehicle OBD2 parameters PIDs from car's sensors: speed, rotation (rpm), coolant temperature, pressure, O2 oxygen sensors and multiple other PIDs. Available chart drawing and analog/digital widgets presentation. Please note that exact list of scanned OBD2 parameters depends on your car make/model/year.

⛽ Economizer:

Trip Computer mode for presenting and tracking car's fuel economy/consumption. Presents both in-drive (instant and average MPG) as well as per trip, per day and other statistics. Please note, that feature available when appropriate OBD2 economy parameters (MAF or MAP+IAT+RPM) are supported in your car. For correct calculations you may need to enter Engine displacement (in cubic cm) and volumetric efficiency (in %, the default is 80).

♾ Other features:

• logbook notes: fueling, service records, car maintenance, diagnostics
• GPS parameters: speed, altitude
• register and upload data to web
• console mode: for advanced users, direct OBD2 and ELM327 commands sending
• use custom configurations for non-standard parameters and protocols

? site http://inCarDoc.com

Avoid!!! simultaneous running of multiple OBD-II reading apps, be sure that other apps does not keeping live Bluetooth/WiFi connection via ELM327 OBD2 scanner.

Required permissions:

• Device & app history
Used to self- identify application when at background
• Location
Extra GPS parameters: GPS speed, altitude, position for fueling and service search
• Photos/Media/Files
Store and read "Logbook" and Debug data as direct user's actions
• Other
Bluetooth related - communication with external OBD2 scanner
Internet related - publishing "Logbook" records to server as direct user's actions
Drawing over other apps – presenting economy and selected parameters over other app's screens

Warning!!! There are reports on issues when using some cheap "clones" of ELM327 (mostly marked as v2.1)! Read more at our forum https://goo.gl/9qiBSv

You are always welcome @

? our site http://inCarDoc.com

Thank you!!!