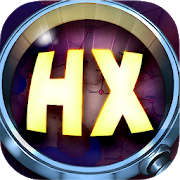 Apps like Hidden Express
Join the millions who have played Hidden Express! It's a hidden object game unlike any other! Explore gorgeous photographic scenes in search of lost objects. Can you find them all before the clue train gets away? With hundreds of locations to explore, and a fast and fun game play, this is one ride y… Read more

by Making Fun, Inc.
in Casual

Eternium is an amazingly fun and beautifully crafted Action RPG, reminiscent of the great classics. Eternium stands out from other mobile Action RPGs by its effortless "tap to move" and innovative "swipe to cast" controls, and its player-friendly "no paywalls, never pay to win" philosophy. With th…

Sharpen your sword and join the fray in IRONBOUND, the turn-based multiplayer strategy card game where you use your wits to prevail in fast-paced online duels. Ironbound is a unique fantasy card game with innovative mechanics and deep online meta-game. Online games last between 5 and 10 minutes an…

Are you ready to experience your inner rebel? Ever wonder what it is like to get a tattoo? Now you can experience it all without feeling the pain! Fill in hundreds of different tats for your customers. Try to get the picture as close as possible for them and don't mess up!. Get ready to feel the sat…

Strap on your boots and forge ahead! Mine metals, hammer them into shape, and forge the best swords you can! This is not your normal simulation game. Break rocks to discover exotic gems. Forge them into beautiful swords and show them off in your armory. The better the materials you find, the more m…

Build your own world with your fingertips! A world of simple numbers becomes gorgeous in your hands with a simple touch. What is your occupation? Students, doctors, scientists, freelancers? It does not matter! In this relaxed world you will be the greatest painter and designer! Oh, if you have chil…

Enjoy Board Kings - the online social board game where you play with friends - and destroy their game boards! ?Roll the dice to hop around your game board ?Gather coins to build your own board city ?Hop around and pick up goodies like gems, coins, stickers and free rolls ?Travel to your friends' …

?‍☠️ Pirate Kings – the original CASH KING game ?‍☠️ ⚔️ ATTACK your Mateys' islands! Take their good stuff (and coins)! - it's a pirate's life, after all! ⚔️ STEAL bonuses and prizes from other pirates! Take what your heart desires! ⚔️ COLLECT coins and prizes to build your island. Stash more trea…

Add a similar App
Hidden Express

Join the millions who have played Hidden Express! It's a hidden object game unlike any other! Explore gorgeous photographic scenes in search of lost objects. Can you find them all before the clue train gets away? With hundreds of locations to explore, and a fast and fun game play, this is one ride you won't want to miss.

● Pure hidden object hunting at its best! Just one beautiful scene after another.
● Over 1800 levels to play with many more new scenes added every month.
● Weekly themed events and tournaments - compete with your friends to win great rewards!
● One-of-a-kind hand-crafted scenes - the scenes look real because they ARE real.