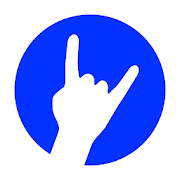 Apps like Coub — GIFs with sound
Make video loops from YouTube, GIF, Camera, Library, whatever. Pick the best moment, add a cool soundtrack. You're the boss here! Coubs are seamless and HD, so it's the ideal format for creating loops that stay true to the original source material. If you love loops but you're sick of low-resoultio… Read more

by Coub, Inc.
in Entertainment

"Nothing" will allow you to solve the problem that since the dawn of time afflicts men around the world, translating for you the answer of a woman to the simple question "What's wrong?". Thanks to a database containing all the possible answers so far recorded since the birth of the first woman — an…

Looking for the most talked about TV shows and movies from the around the world? They're all on Netflix. We've got award-winning series, movies, documentaries, and stand-up specials. And with the mobile app, you get Netflix while you travel, commute, or just take a break. What you'll love about Ne…

Watch movies and TV shows recommended for you, including Amazon Originals like The Marvelous Mrs. Maisel, Tom Clancy's Jack Ryan, and the kids series Tumble Leaf. App features: - Download videos to watch offline – anywhere, anytime. - Cast from your phone or tablet to the big screen with Chromecast…

Games are more fun with the Google Play Games app. We'll help you find your next favorite game – from action to puzzles. And with "Instant play," many games require no installation. Really. Save your progress and track your achievements as you level up. Plus, you can pick up where you left off from …

Coloring pages with unique designs and mandalas in every shape and size. Get a fascinating stress reliever right on your Android device! Release the stress and feel better during color therapy process: allow yourself some precious moments of childish joy and happiness and unleash your creative inne…

Join Tilda Swinton and CERN scientists on an epic interactive journey through the birth and evolution of the universe - in mixed reality. Go back in time 13.8 billion years and discover how space, time and the visible universe came to be. See the universe form in the palm of your hand. Witness the…

Now with a Christmas scene.. Makes you Philips HUE light bulbs dynamic! (Philips HUE light bulbs and the WiFi bridge is needed!) Tired of the static scenes in the official HUE app. Enjoy dynamic HUE! In the mood of a clam evening, hueManic will create a perfect illusion of a fireplace in your li…

Private Browser enables you to have a private and anonymous web experience. The incognito mode ensures your browsing history is not recorded. The Private Browser incognito mode and a built-in adblock prevent advertisers from tracking your behavior and keep you anonymous. These features make Private…

Easy Color - Color by Number, Paint by Number, Art "Easy Color - Color by Number, Paint by Number, Art" is one of the best Color by Number and Paint by Number Colouring Games for android, It's so beautiful and powerful. "Easy Color - Color by Number, Paint by Number, Art" is also a Relaxing games a…

Using this application you can do your private browsing (Incognito Browsing) and hide all the web pages you visited and no one will know about it. It is password and/or fingerprint protected. It won't show up in the recently opened application list which makes it invisible and no will know that yo…

Add a similar App
Coub — GIFs with sound

Make video loops from YouTube, GIF, Camera, Library, whatever. Pick the best moment, add a cool soundtrack. You're the boss here!

Coubs are seamless and HD, so it's the ideal format for creating loops that stay true to the original source material. If you love loops but you're sick of low-resoultion, overly compressed GIFs, Coub is definitely for you. Coubs can be horizontal, vertical, widescreen, any format you like, basically.

Find the best coubs by following themed channels. Movies, TV shows, series, anime and well... cats: whatever your interest, there's probably a channel for it. And if there isn't, you can always make one yourself.

— Make coubs from YouTube, GIF, Camera, Library, whatever.
— Trim the best moment with help of our handy editor.
— Add any audio track from your library or from YouTube video to add new atmosphere.
— Your coubs will appear in your channel and on your subscribers' timelines.
— Subscribe to other users' channels and collect coubs in your channel using the Repost button.
— Share coubs with friends on Facebook, Tumblr, Reddit and many other social platforms.