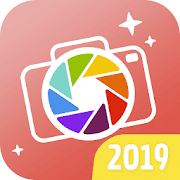 Apps like Beauty Camera - Selfie Camera & Photo Editor
Beauty Camera - Best selfie camera, containing diverse beauty effects and photo filters to beautify your photos!? ✨Beauty Camera main features: 【Auto-beautify】Remove acne and speckle, smooth and glowing skin 【Real-time Effects】Smaller and V-shaped face, whiten teeth, enlarge eyes etc 【Photo filters… Read more

by Sweet Selfie Inc.
in Photography

• Over 1,500 diverse stickers    - Facial recognition stickers that can distort your face or turn you into a cute animal    - Shiny effects and stylish analog filters to brighten your day     - Various drawing effects that you can draw as you take a video. • Real-time beauty effects to get the perfe…

Boomerang from Instagram makes everyday moments fun and unexpected. Create captivating mini videos that loop back and forth, then share them with your friends. Find something (or someone!) that's moving, or create a video selfie by switching to the front-facing camera. There's just one button. Tap …

##V3.0 NEW FEATURES## # New UI New Camera , New Design, New Experience. # New Homepage Quick access to select features such as Camera, Edit, Collage, Gallery and more… # New Store Cameras and Filters in the "Store"where you can add and manage your favorite camera modes and filters. all Free! # 100+…

Handy Video& Photo Collage, Video& Photo Edit, Slideshow and other fun features! One powerful enough for all! Grid your best memory with us! -VIDEO: Merge Music with your edited Video. Add Text & Emoji, 700+ fonts to choose. Crop video and splice it. A slow motion video editor also! Filters and oth…

Why you need PhotoGrid Lite? With Instagram 1:1, 4:5 & 9:16 aspect ratio cropping. Brightness, contrast, saturation and huge adjustment. As well as text, blur, focus, mosaic, border, draw and watermark features. We really do have everything which you can share your photo on Tik Tok, Vigo video, Fac…

Photo Editor Collage Maker Pro is the best free photo editor for you to edit pics, create collages, add makeup to your photos. Photo Editor Collage Maker Pro offers a selection of filters, effects, stickers etc. Use the makeup and beauty tool to beautify your images. You will be creating amazing edi…

Instasquare Photo Editor: Neon Filter, Sketch Line is a picture editing app, providing you the best tools to make a collage, edit images, add unique filters, put on effects, change photo grid, create sketch lines and apply magnificent neon filters, where you can adorn your photos and pictures for %1…

Face Camera: Sweet Filters & Selfie Snap Camera provides you the best funny camera filters. Take a selfie with dog, cat, animal face stickers and use beauty cam filter to beautify your photos. Face Camera: Sweet Filters & Selfie Snap Camera presents dozens of free sweet camera filters for you. Shoot…

Face camera is a great edit tool , it awesome profile pictures for social media.Use stickers to take photo with them and make different cute selfie! Why choose ? ❤ you can take selfie with animal sticker. ❤ add different filter in real-time. ❤ Professional edit tools. ❤ Enjoy recording fun express…

? Top 3 in the Google Play in over 40 countries! ? The best beauty camera app 2019 ? 300,000,000 users worldwide take selfies every day with Sweet Selfie Sweet Selfie offers simple, yet powerful face editor, body shape editor, artistic photo filters, blur photo editor and so much more to take your …

Add a similar App
Beauty Camera - Selfie Camera & Photo Editor

Beauty Camera - Best selfie camera, containing diverse beauty effects and photo filters to beautify your photos!?

✨Beauty Camera main features:
【Auto-beautify】Remove acne and speckle, smooth and glowing skin
【Real-time Effects】Smaller and V-shaped face, whiten teeth, enlarge eyes etc
【Photo filters】Mirror real-time filter and stylish photo effects
【Funny Stickers】Emoji, make-up ,hairstyle, cute animals etc
【Easy to Share】Instagram/Facebook/Whatsapp or any social network

========Beauty Camera========

?Real-time beauty effects
◇ Beauty Camera is the best selfie camera. Beauty makeup photo filters, face filters are all in Beauty Camera.
◇ All-in-one Beauty Camera reveals your beauty.

?Beauty Camera for Beautiful Selfie
◇ One-tap beautify offers the professional selfie in one second with different beauty levels
◇ Remove temporary imperfections like acne, pimples and blemishes with tap of a finger
◇ Smaller and V-shaped face in Beauty Camera

?Photo Filters and effects
◇Varieties of photo filters are ready for different photo effects in photo editor free! Enhance pictures by adding photo filters and effects.